YAKDAN AL QAISI, M.D. FRCS, ABFM
Phone: (661) 363-6800
Fax: (661) 363-6888
Work address: 4040, San Dimas St. Suite A.
Bakersfield, California 93301

Education and Professional degrees
06/1979 M. D. University of Mosul Medical College, Mosul.
11/1994 FRCS, The Royal College of Surgeons of Edinburgh, Scotland, UK.
08/2006 ABFM American Board of Family Medicine, USA.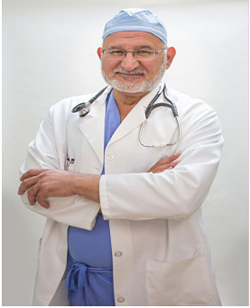 Accredited by Professional Organizations:
The Royal College of Surgeons of Edinburgh, FRCS Nov. 1994.
American College of Sport Medicine, ACSM #673430.
American Board of Family Medicine, ABFM Aug. 2006.
American Academy of Family Physician, AAFP # 8089093.
Medical Board of California, License # A88720.
British General Medical Council, member #4235013.
Languages
English, Arabic and Spanish.
Licenses and Certificates
Certificate of Anesthesia residency training. University of Kentucky, Lexington, Kentucky.
Certificate of Orthopedic Trauma Fellowship Training. Baylor College of Medicine, Houston, Texas.
ECFMG Certificate. Cert. # 0-477-98-8.
BLS & ACLS Provider certificate.
ATLS Provider certificate.
NRP & PAL provider certificate.
ALSO "Advanced Life Support in Obstetrics" provider certificate.
Research, Presentations and Publications:
Published original Paper of the study of Kirkup's procedure for the gross Hallux Valgus with Metatarsus Primus Varus, published in JBJS (Br), 1996; 78-b: supp II & III, P137. Also presented this study at the annual conference of the British Orthopedics Association in May 1995.
My Orthopedics Fellowship study, at Baylor College of Medicine, Houston, Texas, Oct 1998 through Oct 1999; Supervised by Professor Ronald Lindsey. A Prospective study titled; "The Clinical Significance of Rotational Malunion after Intramedullary Fixation of Fractured Femoral Shaft", July 1999. Presented this study at the annual graduation conference and ceremony of Dept. of Orthopedics Surgery of Baylor College of Medicine, Houston, Texas. June 1999.
Family Practice "Residency Research Project"; A retrospective study of 1600 Colonoscopy and Procedures Findings for Colorectal Cancer at FP Offices in Seneca, South Carolina, September 2003. Presented at the graduation ceremony of Anderson/Seneca Lakes Family Practice Residency program same year.
Experience and skills
His cumulative experience is a product of multiple training programs and degrees in multiple countries.
He developed special surgical skills during his training at the Royal College of Surgeons of Edinburgh in handling complicated cases of Trauma Orthopedics and during my Fellowship training in USA.
Full residency training in Family Medicine and American Board in this specialty. He managed multiple chronic and acute cases in internal Medicine as in-patients and as a primary care Provider in out-patient services.
He has the opportunity to work in cosmetic, reconstructive and trauma surgery during 1980-1986. He also has much experience in treating war victims with multiple injuries during the middle east war.
He pursued further training in USA in an anesthesia residency training program at the university of Kentucky. Then he joined fellowship training program in orthopedic trauma surgery at Baylor Medical College in Huston, TX.
He continued his residency training in Family and sports medicine and successfully completed his specialty boards.

He accumulated all of his skills from multiple training program and developed his main focus onto cosmetic and reconstructive surgery and began his private practice in Bakersfield, CA.